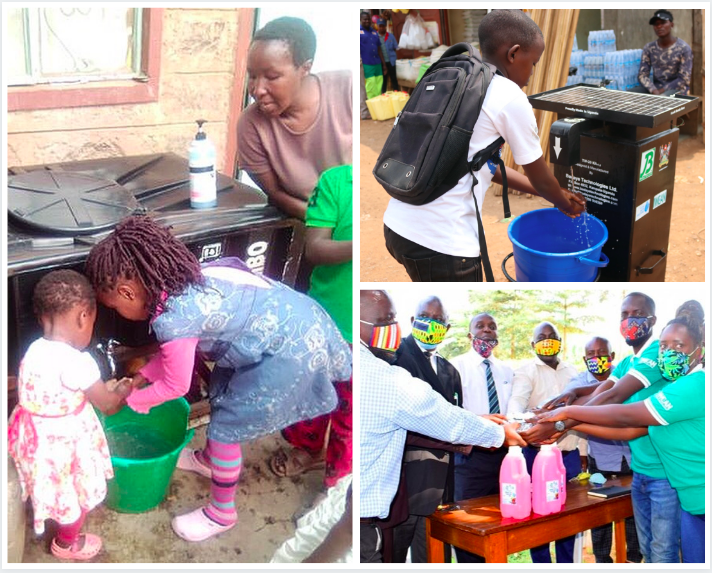 Three Young Water Fellows funded to help fight COVID-19
Thanks to generous funding from the International WaterCentre Alumni Network (IWCAN), three Young Water Fellows were selected to implement projects responding to the threat of Covid-19 in their community. The Fellows selected were Everlyne Nabakka and Patricia Rhoda Nekesa from Uganda and John Tumaini from Kenya.
Despite the challenging times that COVID-19 has thrown upon many enterprises, our 2019 Global Young Water Fellow Everlyne Nabakka and partner Daniel Kimbugwe turned a challenge into an opportunity. While Eve's YWF project usually produces ecological and reusable sanitary pads, she temporarily re-purposed her workshop to produce face masks. In two months, her social enterprise EcoSanitary Uganda successfully manufactured and distributed 2,000 re-usable masks to vulnerable communities, health facilities and key local government departments whilst also contributing to improved hygiene by producing 1,000 litres of liquid soap.
Elsewhere in Uganda, Fellow Patricia Rhoda Nekesa from the YWF East Africa 2019 partnered with Badaye Technologies to provide safe water, boost hand washing, and reduce the risk of Covid-19 transmission in public spaces in Kampala. Focusing mainly on hospitals and markets, they produced and installed 30 fully functional TW-20 Kits: green, low cost, automated, hands free hand washing systems.
Covid-19 has significantly affected Kenya with vulnerable communities in Nairobi slums being particularly vulnerable. 2017 Global Young Water Fellow John Tumaini and his NGO Hifadhi Africa have been addressing this challenge by providing slum areas with access to food, water and hygiene products. Thanks to their project, ten 500 litre hand-wash stations were donated to 10 slum-based institutions as well as 315 litres of alcohol-based sanitiser, 260 kilograms of rice, 1,530 kilograms of maize flour, 100 litres of liquid detergent and 925 re-usable face-masks.
We want to specially thank IWCAN for making this initiative possible and our three Young Water Fellows for their inspiring work.