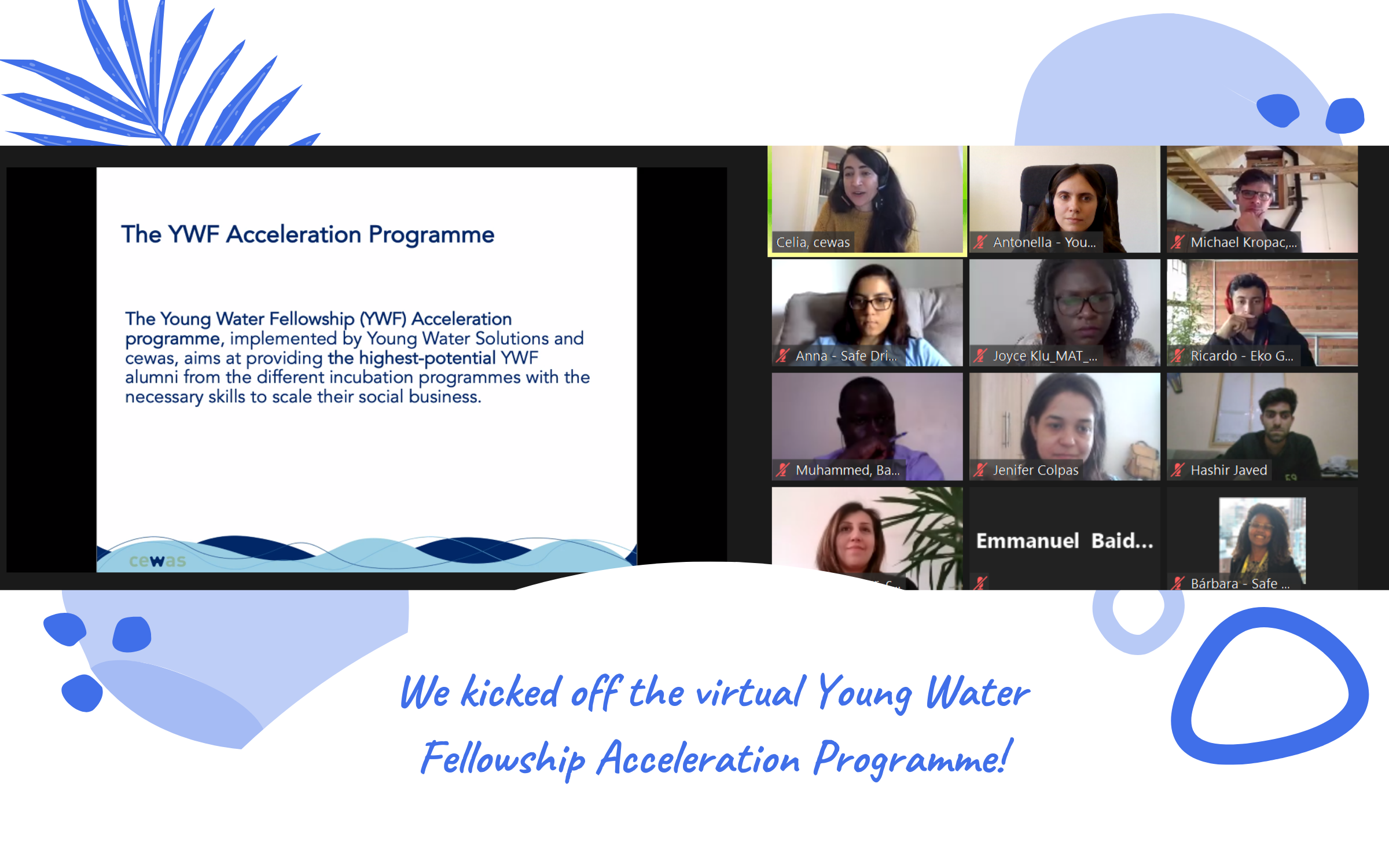 The Young Water Fellowship Acceleration programme
On 7th April 2021, Young Water Solutions kick-started the first edition of the Young Water Fellowship Acceleration Programme, in partnership with cewas. The programme provides further support for high-potential start-ups from former editions of the YWF and aims at equipping them with skills and know-how to scale their social businesses.
The programme is based on a collaborative approach with partners and investors who can support the start-ups whilst increasing the impact of their investment portfolio at the same time. The start-ups will benefit from a wide range of activities, including in-depth enterprise analysis, training on financing and business strategies and final investment matchmaking with partners and investors. Between training sessions, the start-ups are also receiving tailored technical assistance, coaching and mentoring.
On May 12th, the start-ups also had the invaluable opportunity to participate in a roadshow event to present their business and investment needs to potential partners and investors.
We especially thank all partners who made this programme possible: the Swiss Agency for Development and Cooperation SDC, cewas, Antenna Foundation, PureTerra Ventures, WaterSpark, Fondation Perier-D'Ieteren, Toilets for All, L'eau de Saint-Omer and Universität Zürich UZM.
We also thank the start-ups participating in the programme, working hard every day to bring concrete solutions for achieving SDG6: Majik Water, Iriba Water Group, SDW for All, Mobile Alert Toilets, PakVitae, Tierra Grata, EkogroupH2o+ and Badaye Technologies.